What is Iternal? AI and Automation
The best positioning for competitive advantage is centered on unmet needs in the market. Solving problems that seemed impossible to solve. Issues that have been indefinitely tabled, because a solution could not be envisioned, and thirty years of using the same processes seem so deeply engrained it is just accepted.
We automated the seemingly impossible.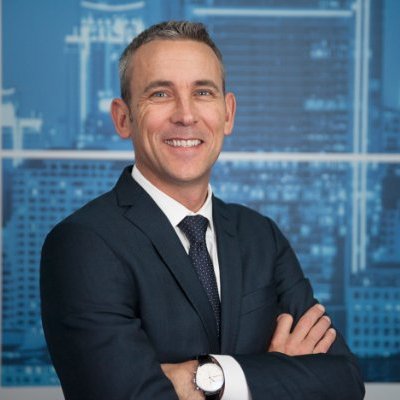 "Dell generated over $650 Million in new opportunities, 10X the number of shots on goal, no incremental cost increase, proposal creation timelines of 3-6 weeks turned into 2 days of work, with my team of just 4 Dell Employees using Iternal."
DAYNE TURBITT   •   FMR. SVP & GENERAL MANAGER – DELL TECHNOLOGIES, UK
December, 2022
At Iternal, the impossible is what we have been studying for years. Questioning and exploring intractable problems that technology can solve for organizations of all sizes. The problems, that if solved correctly can unleash an enormous competitive advantage for those who embrace the future, and accelerate organizational velocity to an unmatched level.
Those unmet needs are our ingredients and here are a few that we have framed in questions to ourselves.  
How can we unlock one person to do the work of 30 people in the world of sales, marketing, or content creation so you can accelerate your growth?
How could we return the valuable time of executives and leaders by eliminating the searching for, updating, and re-creating content when a machine can do it for us? 
How could we scale our ability to accelerate workflow in any language or country worldwide?
What if an employee could answer five simple questions, and based on those answers, create a comprehensive suite of key materials – videos, proposals, slide decks, follow-up emails, training content, reports – could be generated in a matter of seconds, with a level of quality that looks like it cost tens of thousands of dollars to produce?
Can we redefine the way companies purchase technology and align cost to value and ROI while minimizing the risk of poor adoption?
For many years, the answer was simple. "I don't know". 
Today, we answer those questions by introducing Iternal's solution we call "Technology as an Employee." Here's our approach to solving these fundamental issues in business.  
Solutions to big enterprise challenges.
Leveraging Iternal's Technology as an Employee solution, we can answer the key questions every enterprise organization faces.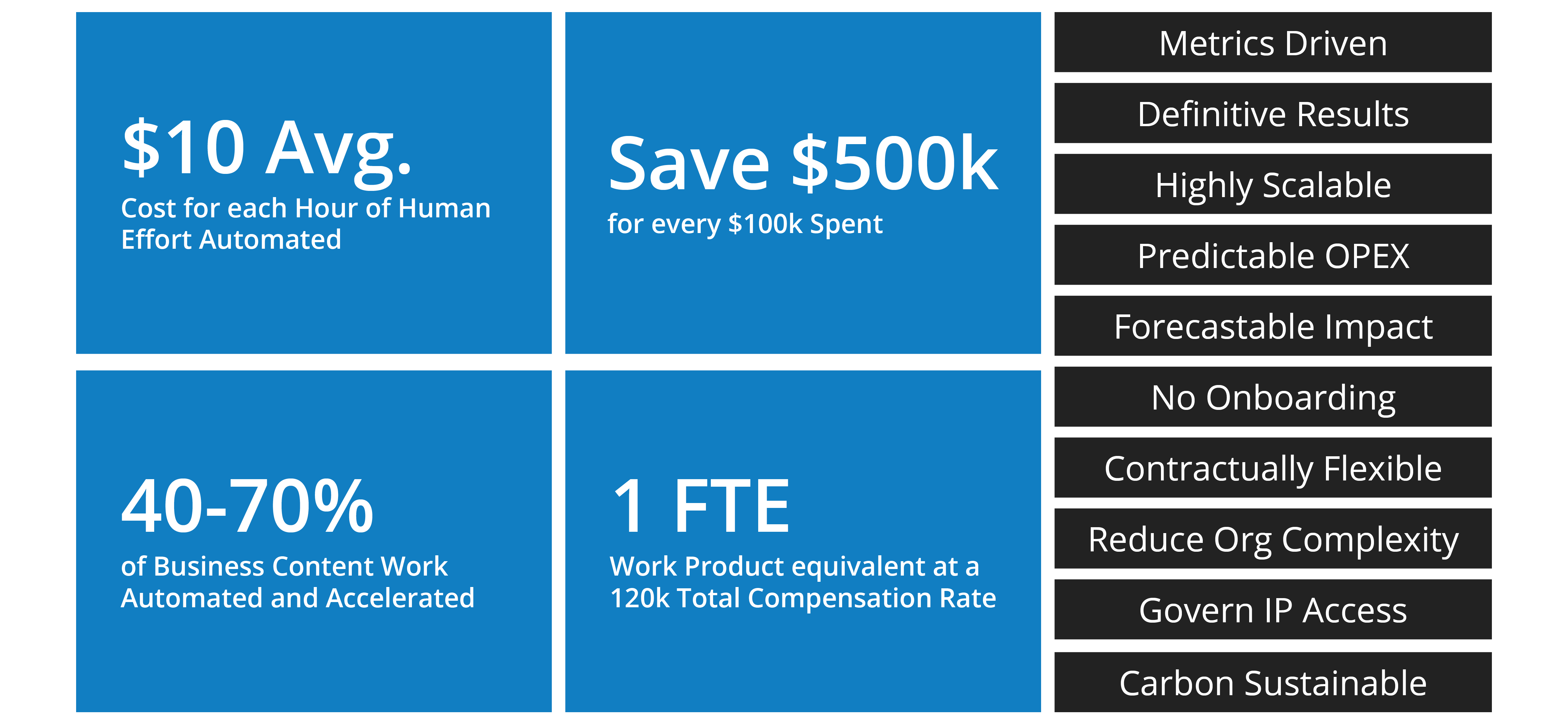 First, we work with the customer to identify their key strategic priorities. We review current business processes and build a set of improvements, driven by the benefits of adopting Technology as an Employee. 
We break down the organization's key information (proposals, pitch decks, PDFs, videos, intelligence, and training material) into flexible Modular Components® that can be mixed and matched to tell different stories to different audiences, like customers and internal employees. 
Then we make it easy for employees to get the right information at the right time by using AI to intelligently curate and assemble the information required, simply by answering a few questions, like "What is the industry vertical?", "What products/services are the customer interested in buying?", "Who are the competitors?", etc.

How we solved the challenges.
We designed and built a patented structure for AI that provides intelligent curation and Automation. 
AI accelerates the time it takes for any employee to create high-quality content, and we can allow employees to spend more time on important tasks, thereby extending the effectiveness of the workforce, accomplishing more in less time, now one person can do the work of many.
By organizing key information that is always up-to-date and on-brand Modular Components®, for any media format, we can eliminate the searching for, updating, duplication, and re-creation of content.
By connecting Modular Components® to a built-in translation solution, we can easily translate any information with the click of a button through an automated workflow.
We designed a technology that allows an employee to answer five simple questions, and based on those answers, create a comprehensive suite of key materials – videos, proposals, slide decks, follow-up emails, training content, and reports – generated in a matter of seconds, with a level of quality that looks like it cost tens of thousands of dollars to produce.
We reimagined cost structures through a usage-based pricing model that aligns our goals without customers, and allows organizations to start small, prove the technology works, and scale it intelligently – all while measuring the ROI.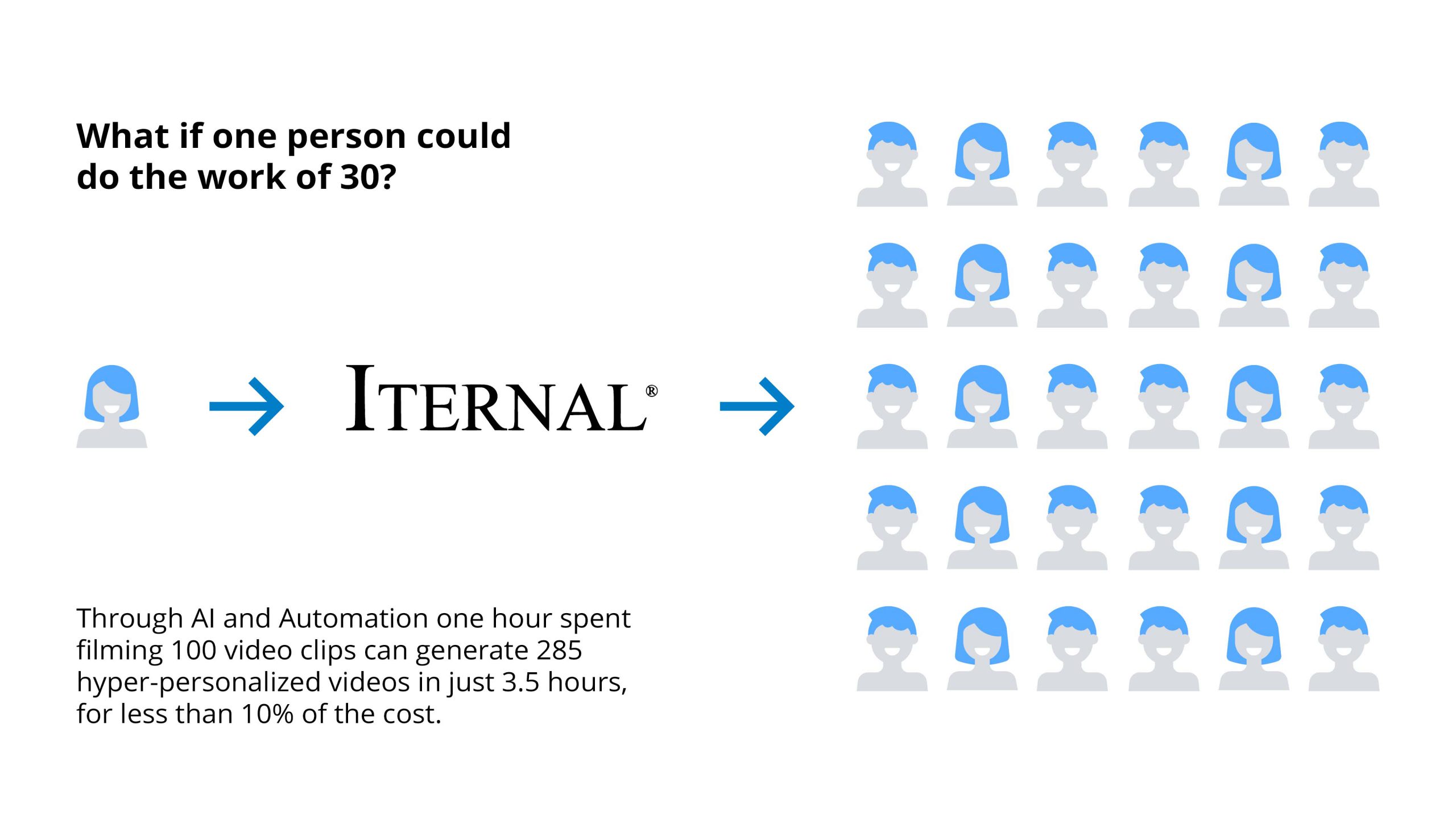 Partners are key to broad innovation.
"Our partners are an extension of our team. Together we are unlocking new competitive advantages for our customers that accelerate Human Capital through Iternal Technologies." John Byron Hanby, IV, Iternal Technologies' Founder and Chief Executive Officer, 
It takes a village to build new technology, and we are grateful to have the support of industry leaders across many different fields.  
Turnkey AI is a packaged end-to-end enterprise secure and scalable solution combining Dell Hardware and Services, NVIDIA AI frameworks, with Iternal Technologies AI software to help customers realize ROI out-of-the-box with high-value use cases and fast time-to-value (TTV in Weeks), reducing the customer's cost and risk of deploying AI.
Running on-prem via Dell Technologies' OEM Solutions or in the cloud on AWS has enabled us to provide enterprise-grade security, compliance, and scalability to our Fortune 500 customers. 
Reliable security and speed to customer Go-Live has always been a top priority, and by partnering with AWS and leveraging EKS, Fargate, Lambda, and AMD-powered EC2 we've been able to achieve an average go-live time for new customers of less than 6 hours for each customer's dedicated enterprise secure environment. No more waiting 3, 6, or 12 months for an enterprise deployment. 
By making security a core tenant from day one, Iternal was able to incorporate Dell Technologies' and AWS's robust security offerings and the Foundational Technical Review process into their string security posture, which has enabled Iternal to pass multiple Fortune 50 IT Security audits with little to no IT pushback in as fast as 2 weeks.
We've also been able to partner with experts from Dell Technologies, OEM Solutions, NVIDIA, AWS and AMD to optimize our infrastructure and maximize stability, availability, and reliability to deliver an optimal customer experience.
In collaboration with NVIDIA, we are building the next generation of commercial customer experience and public sector citizen engagement. By combining Modular Components® of information with seamless one-click translations (via our partnership with Lionbridge an industry leader in language translations) and the ability to generate realistic human-like digital avatars in both audio and video, we are making it easier for organizations to distribute personalized communications in more engaging media formats like video with improved 508 accessibility across all foreign languages. 
Through our partnership with Carahsoft, Iternal's solutions are available to be purchased by Federal, State, and Local governments easily through 5 different enterprise contract vehicles.
The future is personalization.
Soon you'll be receiving personalized, meaningful, and useful communications from the companies you do business with and work for; and the country and city you live in. 
As a B2B sales leader, imagine being able to spend 5 minutes creating your next customer presentation, instead of 6 hours – with it being even more personalized to the customer's needs and desires than ever before.
As a veteran receiving medical treatment from the VA, imagine receiving personalized guidance on your treatment protocol, sent with daily updates and check-ins to ensure the best level of care possible. 
As a consumer who's interested in booking a vacation, imagine being able to preview your personalized vacation travel experience, tailored around your personal interests, favorite restaurants, and hobbies, before you click to book.
Economy scale impact.
Technology as an Employee will forever change how we work and engage with customers, citizens, and audiences. Across our Fortune 500 customers, we see an average Cost Savings per customer of 92% compared to their historic spending on equivalent sales and marketing content activities. That cost savings is being used on new initiatives, accelerating growth.
The speed to write a proposal, prepare a slide deck, send a follow-up email, edit a video, or draft a report, is at least 16x legacy methods. One Fortune 50 customer was able to reduce the time to create a $15,000 proposal from 3 weeks to 6 minutes and save 92% of the cost by using Iternal's Technology as an Employee solution.
Conclusion.
The adoption of new technologies are maximizing the effectiveness of human capital and unleashing competitive advantage. We see "Technology as an Employee," as the way to accelerate organizational velocity. 
Automation, Artificial Intelligence, and Digital Avatars are not going to reduce the workforce but rather open up new opportunities for employees to work smarter and spend less time on the tedious and mundane processes that slow effective execution of strategic objectives.
This is just the beginning of a transformative journey to help unleash your competitive advantage. Our ultimate goal is to unlock the power of your team, so they can accomplish more while reducing operational and time costs. 
We look forward to working with you!
IS BUSINESS TRANSFORMATION YOUR PRIORITY?
MASSIVE Outcomes
*Depends on organization's network configuration and IdeaFORGE® Service Level chosen.
**Customer's configuration, unique requirements, and IdeaFORGE® use will determine exact percentage. For more details please see the IdeaFORGE® Scoping, ROI, Usage, and Impact Calculator.