IdeaBlock® Creator Portal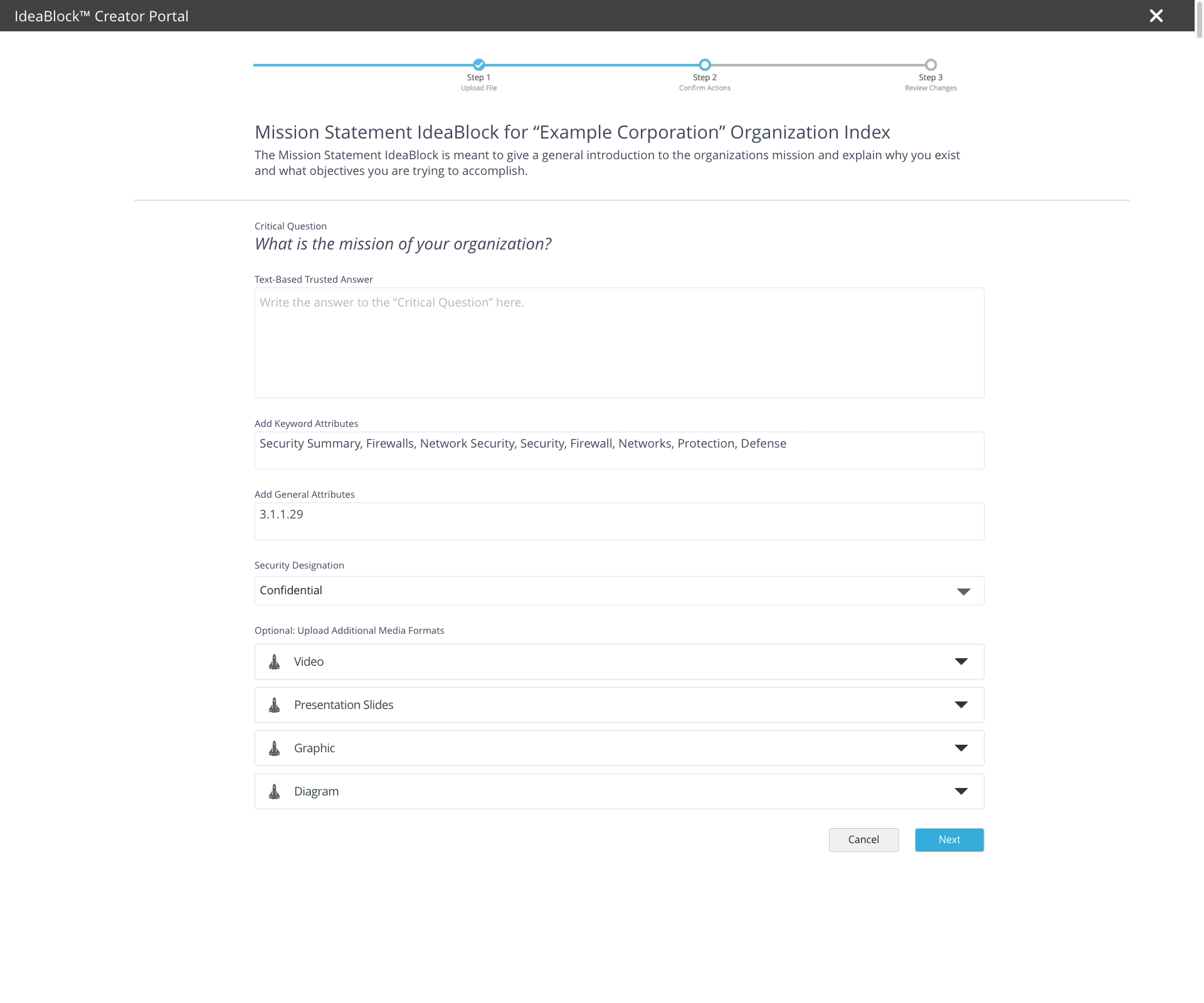 IdeaBlock® Creator Portal
As your organization begins to take the first steps in the IdeaFORGE® transformational journey, it will be critical to enable your employees with a strong foundation of content to leverage within IdeaFORGE. The IdeaBlock® Creator Portal enables creative teams within your organization such as marketing teams, communications teams, and sales enablement teams to be able to quickly and easily create IdeaBlocks™ within IdeaFORGE.
What is an IdeaBlock®?
An IdeaBlock is any self-contained concept or idea about a topic, for example your company, products, services, etc. 
An IdeaBlock is typically 2 – 3 sentences in length or 15 seconds of video. 
One Question, One Answer, One Idea, One IdeaBlock.™
Here's an example:
IdeaBlock® Name: "Company Mission Statement"
Critical Question™: "What is the Mission of your organization?"
Trusted Answer™: "We are transforming the way organizations share, consume, interact with, and experience information."
Additional Services:
In addition to providing a streamlined software technology to allow users to easily create IdeaBlocks™ within the IdeaBlock® Creator Portal, our team also offers training on how to create a collection of high quality IdeaBlocks™ from scratch through a webinar training offering.
Our team is also capable of providing in person professional and consulting services to create your IdeaBlocks™ for you. Lead by our team of IdeaBlocks™ Certified Experts, we will analyze your content, understand your business objectives, and develop a strategy for what needs to be communicated in each IdeaBlock® to lead to ultimate communication success.